Wish our Boys Soccer team good luck tonight as both Varsity and JV play Anderson Co. at home tonight! The volley ball team also plays Taylor County tonight both JV and Varsity! So don't forget to cheer our teams on and buy tickets for tonight at the link below!
https://gofan.co/app/school/KY19124
Reminder that tomorrow, October 2 we will not be having In-Person learning! All classes will be NTI, which does not include the normal live sessions that come with distance learning! Have a fun and safe fall break!
Next Saturday, October 3, come see the MC Knights face the Mercer Co. Titans in both JV and Varsity boys soccer! Go Marion County! The link is:
https://gofan.co/app/school/KY19124
We're excited to offer local apples from Hinton's Orchard & Farm Market this week in our schools!
Come see the Lady Knights Soccer team face the Washington County Commanders, both JV and Varsity! The game starts at 6:00 pm at home this coming Monday, September 28. Support our team by buying a ticket in the link below! Go MC!
https://gofan.co/app/school/KY19124
Make sure you wish the MCHS Knights Football players luck before they head to Spencer County tomorrow night! GO KNIGHTS!

Hey Betas! Invitations for returning and new members can be found in your school email! The dead line for Beta dues is October 2, dues are $20 for new members and $10 for returning members! You can also buy a t-shirt for $12 and for $25 you could compete in a Digital Leadership Summit. The summit will include two speakers and a variety of competitions like Leadership Representative, Rapid Response, Lead Outside the Box, and Service Snapshot. If you have any questions feel free to reach out to any of our social media accounts! Instagram: Mchsbeta_ Facebook: Marion County HS Beta Club
Good afternoon! We are getting ready to begin our Checkpoints classes for the 2020-21 school year! Our first class will be held next Tuesday 9/29/20 at 5:30pm at MCHS. Please wear a mask and enter through the FRONT door for a temperature check, parking will be available in the front circle. If possible please limit your attendance to ONE parent/guardian per student. You MUST contact Erin Pittman in the YSC either by phone or email by Friday 9/25/20 to get on the list to attend. Hope to see you all there! Don't forget students will receive a $15 gas card if in attendance for the entire class! *Due to Covid 19 guidelines we are unable to provide meals at this time*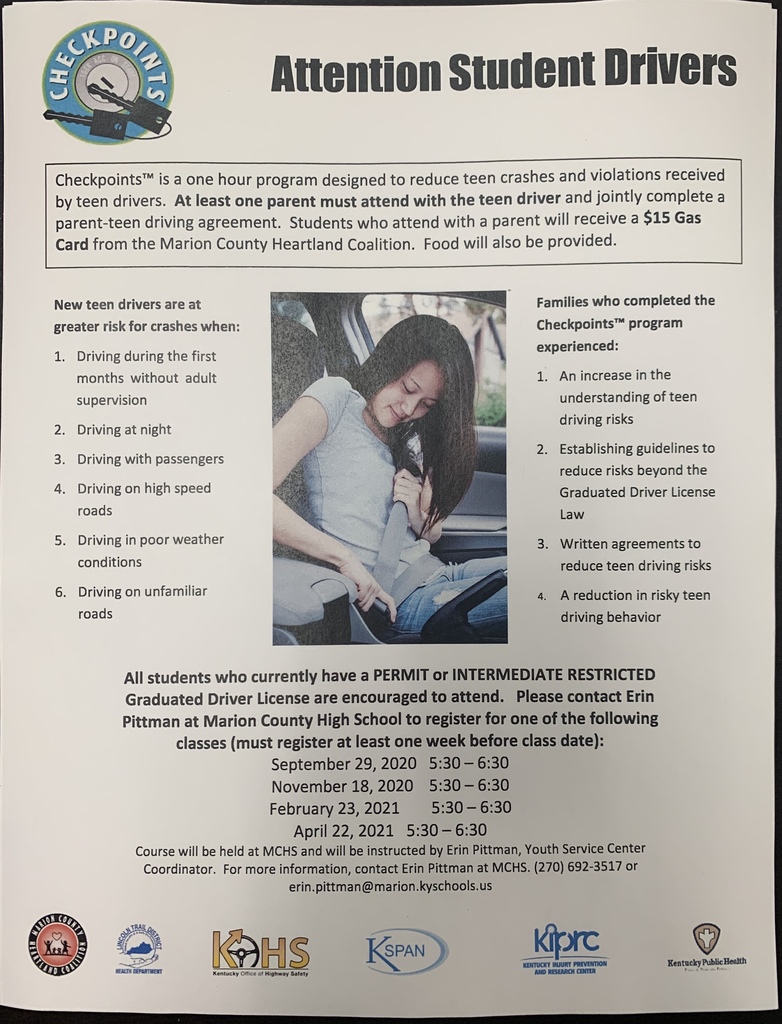 Don't forget: Our first re-entry date for Distance-Learners who want to return to In-Person learning is Wed., September 23. Please contact your child's school if your child will be transitioning to In-Person learning.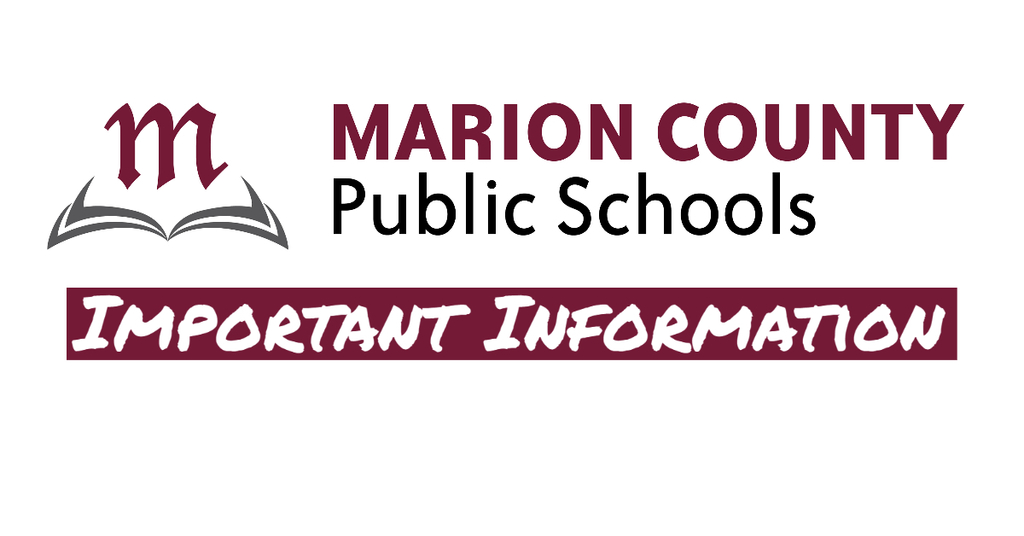 The following is a message from the MCPS Transportation Department we emailed to families earlier today: Parents, Given the circumstances surrounding COVID-19, we cannot currently allow what we historically have called "note riders" -- that is, students who bring a note in order to ride a bus when they typically do not use MCPS transportation. For example, a student would not be able to bring a note indicating that he/she will ride a bus to a friend's house on a particular day. In the past, we've been able to accommodate those situations, but with our current set of COVID-19-related health requirements, this is not possible. However, we are able to work with families if a student who normally rides a bus needs to be dropped off at a different location. For example, some students may occasionally need to be dropped off at a relative's home. As we continue to receive health-related guidance, we'll update our procedures and share that information with you. Thank you and please stay healthy.


Reminder: Our first re-entry date for students currently enrolled in Distance-Learning is September 23. Please communicate with your school if your child plans to return to In-Person learning.

Good Luck to the Knights football team tonight as they play our rival, the Washington County Commanders. Bring home the trophy, Knights!

If you haven't already, download the new MCPS app available on both the App Store and Google Play.

Congratulations to MCPS Assistant Superintendent Troy Benningfield who has been named the Outstanding Administrator by the 4th District Kentucky Music Educators Association!

Tonight girls soccer match and tomorrow night's volleyball match have bother been postponed. Both contests will be rescheduled.

Welcome to the new website!
Remember that the Book Fair is this week! The Book Fair will be open from 7:30 AM to 4 PM each day. Don't forget to send money with your kids so that they can check out the latest reads!
There is a PTO Meeting tonight at 7:30 in the auditorium. We will be discussing the budget for next year.
Be sure to congratulate our Volleyball Team on making it to the district finals!
Welcome to Marion County High School's new website and mobile app!